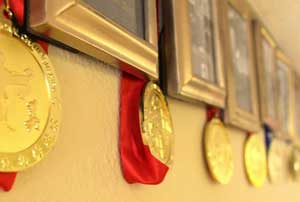 The school
Jun Hong's Kung Fu Club offers a wide range of martial arts application that serves for competition and recreational use. From northern style Shaolin Kung Fu to kickboxing, classes are offered from beginners with no experience to advance who seek professional training. All sports focuses on agility, strength, endurance, and meditation. Practitioners achieve overall benefits of better health and fitness.
Our Style of Martial Arts
Shaolin Kung Fu is comprised of 72 different styles of boxing. One of the oldest styles of martial arts it has a long history of honor, prestige, conquest, and heroes. Kicking, punching, hand to hand combat, grappling, wrestling, weapon throwing, fencing, and qigong are just a few of the skills all Shaolin practitioners must be versed in. What can I expect to learn in a year?
Master Chon
Shifu Chon is a secular disciple of the Shaolin Temple and a gold medalist in over three countries. Training in northern style kungfu since the age of eight, Shifu Chon continued his kungfu education and training in China after high school. Having lived and trained in Deng Feng, China, the birthplace of kungfu, Shifu Chon returned home with a strong desire to teach Kungfu in America. His experiences back east created an immense passion to not only exercise but more importantly, to share with others the true Shaolin experience.